Wasp Nest Removal – Why?
Wasps sting and are potentially very dangerous, only a trained professional pest control company should deal with any wasp infestation.
As wasps are stinging insects it is imperative that you never attempt to remove or destroy a nest yourself. Wasp stings are extremely painful and potentially very dangerous, especially if there are multiple stings which is very likely if anyone was to attempt wasp eradication without training.
–
The Wasp Nest Removal Process
We provide a quick safe resolution to any wasp problem. Our technicians are trained specialists in the eradication of wasps and the removal of bees amongst other pests.
Our trained technicians will first ascertain where the wasp nest is best treated, to do this they will need to know where the wasp activity areas are, often they are found in wall cavities, loft spaces, sheds, bushes, the ground amongst many other places.
Once the activity has been located it is a decision of whether the nest is treated directly or whether the entry points are treated, in any case the treatment is similar. The chemicals used by our team will kill wasps on contact but not instantly, it allows time for the wasps to crawl the poison within the nest, thus killing off the rest of the infestation and the queen herself.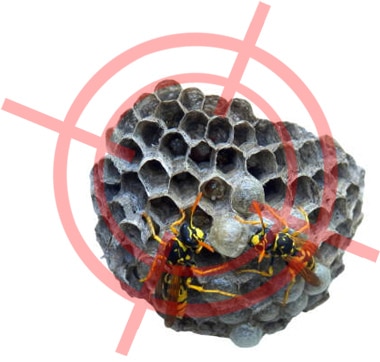 –
Our pricing is competitive, and we offer the best possible services
for a no-obligation quote give us a call on 0330 058 4770
Aren't they protected?
Wasps are not protected, and although there are rules and regulations with certain types of bees. We do everything we can to protect and not harm bees where possible, however in some circumstances when peoples health and safety is at risk this may be the only option.
Wasp Removal – How Long?
Following our treatment you will often notice lots of dead wasps or wasps falling out of the hole, when this happens this is usually a good sign that the treatment has been effective, you can expect the activity to cool right down and be gone usually within a few hours.
However, in some cases it can take longer for this to happen, and we advise that if there is still activity after 10 days, at this point we should be called out for a follow up visit (usually free of charge). Our technician will then administer a second dose to kill of what remains of the infestation.
Not sure if its Wasps, Bees or Hornets?
You can take a look at our information video above and our Difference Between Wasps and Bees page here.
The main thing to note is that we deal with 'all of the above', so whether it is wasp nest removal, hornet extermination or bee removal, we are here to help. Our operatives on the phone should be able to help you determine what pest issue you are experiencing, and our specialists who come to carry out the works are trained specifically to know and understand the differences and the methods involved in eradication.
Need it sorted quickly?
The good news is that our Wasp Nest Removal team is available 7 days a week, and as wasps and bees do not take bank holidays, neither do we.
Bar Christmas day we are available usually on the same or next day to deal with your wasp problems, and all with a price that doesn't sting! Call us today.
–